How to Identify Macbook Keyboard Localizations or Languages Layout?
Views : 866
Update time : 2019-12-07 16:28:00
Use these keycap maps to identify the location of specific keycap characters for different keyboard localizations.
Notes:

Not all keyboards are available in all countries or regions.
MacBook Pro (15-inch, 2016-2019) and later and MacBook Pro (13-inch, 2016-2017, Four Thunderbolt 3 Ports) and later have the Touch Bar in place of physical function keys.
MacBook keyboard localizations:
US English
US English International
UK (British) English
Arabic
Armenian
Azeri/Azerbaijani
Belgian
Bengali
Bosnian
Bulgarian
Burmese
Cherokee
Chinese
Colemak
Croatian
Czech
Danish
Dvorak
Dutch
Estonian
Finnish
French
French (Canadian)
Georgian
German
Greek
Greek (Polytonic)
Gujarati
Hebrew
Hindi
Hungarian
Icelandic
Inuktitut
Italian
Japanese
Kannada
Kazakh
Khmer
Korean
Kurdish (Sorani)
Latvian
Lithuanian
Macedonian
Malay (Jawi)
Malayalam
Maltese
Nepali
Northern Sami
Norwegian
Odia/Oriya
Persian/Farsi
Polish
Polish Pro
Portuguese
Portuguese (Brazilian)
Punjabi (Gurmukhi)
Romanian
Russian
Russian (Phonetic)
Serbian
Serbian (Latin)
Sinhala
Slovak
Slovene/Slovenian
Spanish
Spanish (Latin America)
Swedish
Swiss
Tamil
Telugu
Thai
Tibetan
Turkish F
Turkish Q
Ukrainian
Urdu
Uyghur
Uzbek
Vietnamese
Keycap Maps:
Arabic - (AB)
Belgian - (FN)
Bulgaria - (BG)
Croatian - (CR)
Czech - (CZ)
Danish - (DK)
Dutch - (N)
English, Great Britain - (B)
English, International - (Z)
US English
Finnish/Swedish - (KS)
French Canadian - (C)
German - (D)
Greek - (GR)
Hungarian - (MG)
Icelandic - (IS)
Israeli - (HB)
Italian - (T)
Japanese - (J)
Korean - (KH)
Norwegian Bokmal - (H)
Portuguese - (PO)
Romanian - (RO)
Russian - (RS)
Slovak - (SL)
Spanish / Western Spanish - (E)
Swiss Multilingual - (SM)
Taiwanese - (TA)
Thai - (TH)
Turkey - (TQ)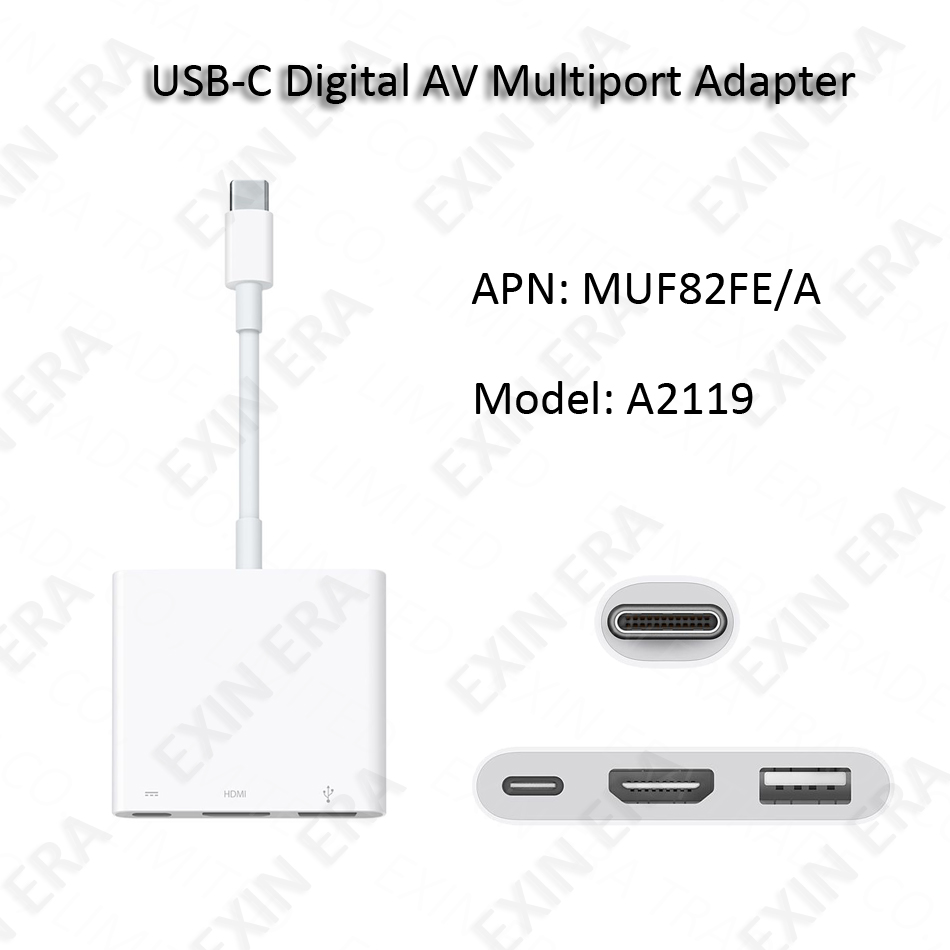 Apple USB-C Digital AV Multiport Adapter MUF82AM/A A2119 New Model
Oct .28.2019
The USB-C Digital AV Multiport Adapter lets you connect your USB-C-enabled Mac or iPad Pro to an HDMI display, while also connecting a standard USB device and a USB-C charging cable.
This adapter allows you to mirror your Mac display to your HDMI-enabled